"We need innovation in our firm"
At a couple of the recent "hot topic" virtual meet-ups of the Centre for Legal Innovation's (CLI) Chief Innovation Officers Forum (CIOF), the key characteristics and competencies of Chief Innovation Officers and other innovation professionals in the legal industry were discussed. While innovation is still relatively new to the legal sector, new roles in innovation continue to emerge and, as a group of innovation focused experts, we thought it was timely to identify, understand and analyse our collective experience about what, if anything, distinguished these professionals. Could we identify a set of key characteristics and competencies for this innovation talent? Were we seeing a career path for these professionals emerging? And, were we ready to identify and hire the right people when needed? We concluded that there was sufficient in this discussion to explore it further and determined to form a Working Group – more on that later – but for now, if you are currently appointing or are planning to appoint innovation talent (from within or outside a law firm), there are a number of things to consider.
The challenges
Here are some challenges that we identified you are likely to face:
"Innovation" is a bit like "strategy"- it means different things to different people and there is no single definition

Innovation is new, so it is hard to quantify talent requirements

There is no existing roadmap for innovation professionals

Firms/organisations that don't have clearly defined business objectives will find it impossible to define their innovation talent requirements

The legal industry generally likes a direct causal link between the doing and the outcome and with innovation in it's infancy, ROI is difficult to define exclusively in those terms

Traditional law firms typically only measure return on investment by income and profitability. The priorities for innovation professionals are often linked to other measurables e.g. staff retention, client feedback, etc. and these have not traditionally been well or consistently measured by firms

Creating a culture of innovation is the hardest task for innovation professionals, particularly in traditional firms where innovation has not been part of the culture or central to how the firm operates

Firms have very limited (if any) headcount for innovation which can result in innovation being added to the CEO or Managing Partner's portfolio, consequently placing it often well down the list of priorities
So where do you start?
In Michelle DeStefano's paper The Law Firm Chief Innovation Officer: goals, roles and holes, she identifies three key aspirational goals for the innovation leader:
Differentiate the law firm

Develop a culture of innovation at the law firm

Delight clients to derive business (old and new)
The participants in the CIOF meet-ups agreed that innovation should be linked to the overarching corporate strategy of the firm – innovation needs a focus and purpose and should not become "innovation for innovation's sake." Michelle DeStefano's three goals provided helpful guidance about the role that an innovation leader can play but, we discussed that each firm will also have its own priorities and nuances so, innovation roles will need to be tailored to meet those needs and expectations. Essentially, innovation is about the firm undertaking change with the end in mind. And, that requires the key business objectives to be agreed, clearly defined and communicated with anyone helping to drive innovation (in fact anyone who is helping to drive anything in the firm!). Innovation is then contextual and related to your own base line. This is important because where innovation may mean automating key systems for one firm, it could be all about introducing a new internal communications channel for another.
So what is it that your firm is trying to achieve? Why is it innovating? For example to:
Improve staff retention?

Increase revenue from existing clients?

Increase market share in specific sectors?

Improve staff satisfaction?

Increase profitability?
Once these have been defined, it's much easier to identify what you need from an innovation professional.
So what is an "innovation professional"?
In their recent HBR article What Kind of Chief Innovation Officer Does Your Company Need?, Darko Lovric and Greig Schneider identify six main types of innovation officers. To help organisations decide which type will best fit their needs, they have developed a "field guide" to describe each one. It's worth reading these field guides and checking out which one you think best describes you too! To summarise, the six main types are:
Researchers – they search for "the next big thing"

Engineers – the reverse of researchers, they optimise things that work now

Investors – often driven by short-term financial results

Advocates – driven to deliver something new for the client

Motivators – getting the people and culture focused on vision and imagination

Organisers – crafting the right process for generating ideas
In short, there is a huge variety of innovation professionals. Even more reason to have clearly defined business objectives if you are looking to invest in innovation talent and then making sure you prioritise the "type" and skills you most need.
To help CIOF members define innovation professional talent roadmaps, we brainstormed and identified some of the key characteristics required to lead innovation. We identified a significant number of human life skills …
… plus a number of key technical skills.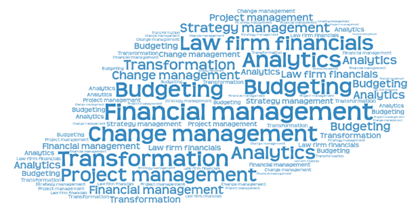 "I don't have much (any) innovation headcount"
With innovation in its infancy, the majority of law firms are assigning innovation responsibilities and activity to an existing staff member. This is often the Managing Partner or CEO and presents the individual with a huge challenge in terms of time and energy. Innovation done well must be internal and external facing. Changing the firm's culture and mindset can be a full-time job in itself. One CIOF member talked about "battling the permafrost" where senior leaders and junior lawyers are keen to innovate but the rest place obstacles in the way and are as impenetrable as a frozen wall. If you have no headcount budget but want to drive change, the previous points in this post still apply re appointing someone internally to drive innovation:
What are your business objectives?

What change do you want to see?

What type of innovation professional do you need to achieve your objectives?

Who in the firm is the closest match to this type?
CIOF Working Group on the Competencies of Innovation Professionals
With more questions raised than answered, the CIOF decided to dig deeper and find some answers. To that end, this month, it formed a Working Group (WG) with me as the WG leader and CLI as the WG's secretariat/admin.
The WG initial terms of reference are:
To scope out the nature, type and origin of innovation roles in professional service firms in Australia

To collect, collate and organise job descriptions for innovation professionals

To develop, where possible, a set of identifiable key characteristics/competencies of innovation roles in professional service firms segmented by industry type and experience level and

Share the findings and/or recommendations of the Working Group as appropriate
If you are a CIOF member or if you would like to be, and, if you have an interest in joining this WG, please contact the CIOF on CIOF@collaw.edu.au by December 31, 2019. We'll kick off the New Year refreshed and ready to move forward with our agenda in January – can't wait to start that work with you!
About the Author
Katherine Mountford is the founder of KM Talent, a recruitment, coaching and personal development business for Professional Services Innovation, BD & Marketing professionals. Katherine is an ex Magic Circle BD/Marketing professional who understands the benefits of finding, retaining and developing great talent and enjoys providing a truly consultative, advisory service. Based in Sydney, Katherine also provides 1-1 coaching to national and international job seekers via Zoom. Connect with Katherine on LinkedIn and Twitter.
About the Chief Innovation Officers Forum
The Centre for Legal Innovation launched the Chief Innovation Officers Forum (CIOF) in 2018. The CIOF is a community of senior professionals leading innovation initiatives in professional service organisations who come together to share experience and the exchange of ideas. If you would like to learn more about the CIOF, please contact us at: CIOF@collaw.edu.au.