Research fellows
Appointment as a Centre for Legal Innovation Research Fellow is open to anyone who has a proven research record or requires seed funding to advance a specialism/expertise that intersects law and innovation (for example College staff, lawyers, allied professionals, and consultants).
Research Fellows are remunerated for their work. They are appointed for one year or for the length of research with the Centre.
CLI appointed its first Research Fellow in May 2018: Nicola Atkinson, Head of Talent and Development at Redcape Hotel Group (Sydney). CLI's current Research Fellow is: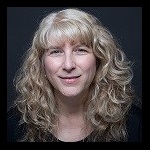 Legal Operations Consultant
Denise's Fellowship will identify what, how and why data is used in the legal industry, analyse its impact, seek to understand why the legal industry has been slow to adopt data analysis, and explain its reluctance to embrace how and what data can deliver. The Fellowship will also determine if there is a correlation between the slow adoption of data analysis in the legal profession and, if this slow adoption can be attributed to the way lawyers are trained. Denise will author a series of blog posts and podinars throughout her Fellowship, culminating in a Report on her research findings.