AI, VR and AR – Changing The Way We Train Our Lawyers
By Steve Gluckman
According to Klaus Schwab, Founder and Chairman of the World Economic Forum, "We stand on the brink of a technological revolution that will fundamentally alter the way we live, work and relate to one another. In its scale, scope and complexity, the transformation will be unlike anything humankind has experienced before."
That's quite a statement. What Mr. Schwab is referring to here is the fact that we are currently at the beginning of what many are calling the "Fourth Industrial Revolution" – or the fourth major industrial era since the initial Industrial Revolution of the 18th century. This is marked by emerging technology breakthroughs in a number of fields, including robotics, artificial intelligence, blockchain, nanotechnology, quantum computing, biotech, Internet of Things, 3D printing, autonomous vehicles, and the list goes on and on. It's really quite amazing when you stop to think about it.
While there has been much discussion regarding how these new technologies will impact the practice of law, not much has been said about how they will impact the training and education of lawyers (and everyone else for that matter). And make no mistake…they WILL have an impact.
I am convinced that three emerging disciplines have the potential to greatly disrupt lawyer training in the very near future (and, in fact, have already started making an impact). They include Artificial Intelligence, Virtual Reality, and Augmented Reality.
When I talk about the impact these new technologies will have on lawyer development, I'm often met with skepticism. Many see these new approaches as little more than a novelty rather than exciting new tools that will allow us to train lawyers more effectively and efficiently. But make no mistake, these technologies offer much more than just a "cool factor."
Take Virtual Reality (VR). No, it's not just for video games. Global organizations like Siemens, UPS, and even KFC use Virtual Reality to train their workforce in a variety of interesting and creative ways. Leveraging Virtual Reality allows training to reflect life-like scenarios and interactions, provides a safe environment to try new things, is entertaining and engaging and, most importantly, has been shown to greatly improve retention and recall.
That's great, but how could lawyers benefit from such an approach? Consider the fact that Virtual Reality is being used successfully to help professionals across industries overcome their fear of public speaking. The VR experience can simulate the feeling of presenting in front of a large audience. The user reaction is real – hands become sweaty, heart rate increases. Using this approach, users have the opportunity to repeatedly expose themselves to the experience of speaking in public and, thus, are able to gradually diminish their associated anxiety. Think about the many ways this approach could be leveraged to prepare lawyers for the courtroom, the boardroom, and other similar venues.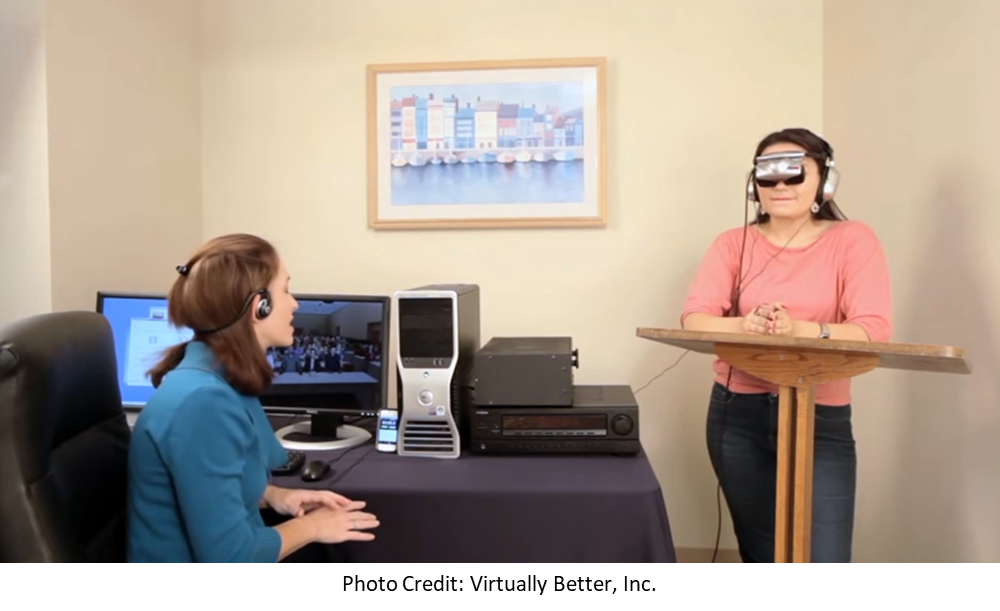 How about Artificial Intelligence (AI)? AI is, in fact, not one single technology or approach, but an entire discipline with many components and subcategories. One such component is Natural Language Processing (or NLP). NLP helps computers process, interpret, and produce "human language." It is in use across many of our daily activities already, from chatbots and digital voice assistants to web searches and spell checker.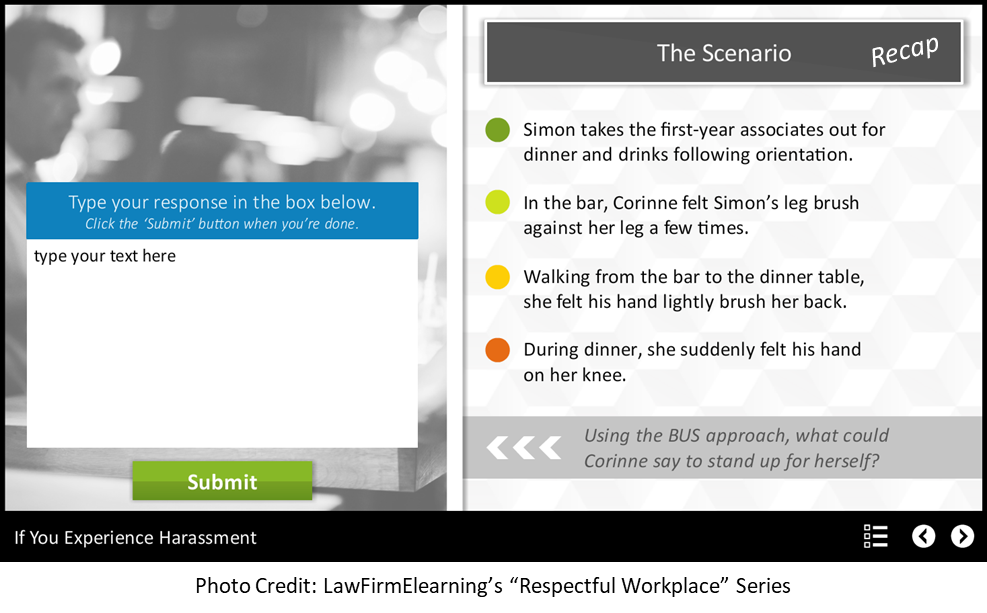 NLP can be used to create on-demand learning scenarios and interactions that are much more true-to-life. We've already begun weaving NLP into the scenarios we build into on-demand learning resources for our clients. In the example pictured above, for example, we present a situation where a supervisor is acting inappropriately and we then ask the learner to type in how they would respond in such an instance. Using NLP, we process their input and then provide a critique – making suggestions for improvement and outlining what else they should consider saying in that moment.
In another example (pictured below), the learner's supervisor – a law firm partner, in this case – shares some feedback on a recent work product and the course prompts the learner to enter a response. The elearning course will then traverse different paths based on the learner's response and the partner will "react" to that response accordingly, making for a true-to-life interaction that can then be examined and critiqued.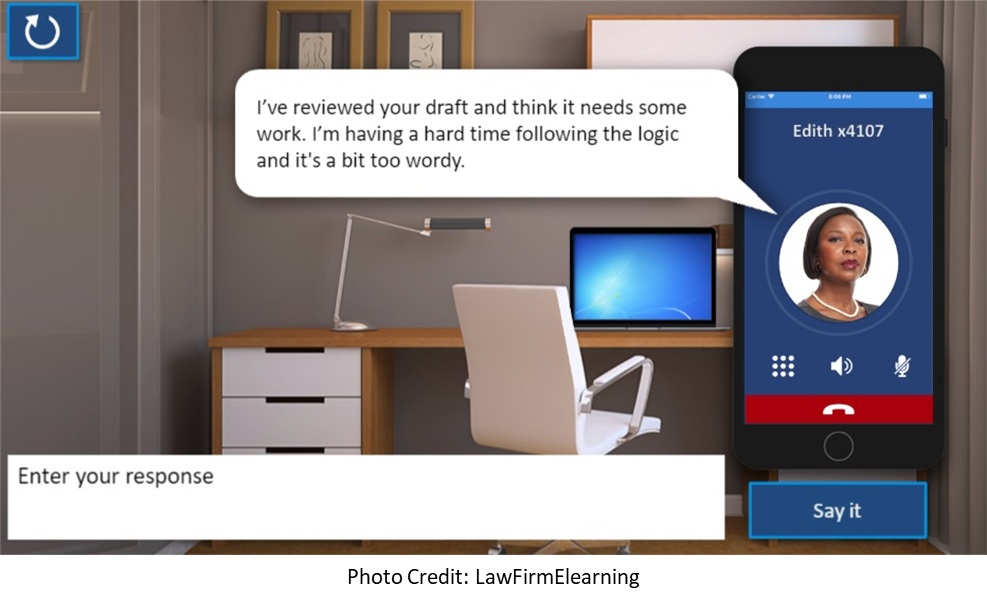 With Augmented Reality (AR), you get a composite view of the real world overlaid with a computer-generated image. This has huge implications for training across industries. Imagine you are a technician, for example, responsible for maintenance of a complicated piece of machinery. Simply aim your smartphone or tablet at the item needing repair and launch the AR application. You'll then see a camera view of the actual component with a graphical overlay pointing out each step needed to make the repair and how to do so right on the component itself.
Now apply this technology to lawyer training. Since AR can superimpose virtual elements over real-world items, imagine a contract where components of the document are overlaid with links to additional resources, references to similar documents, pop-ups with best practices, etc. This would provide true just-in-time learning directly within the workflow at the exact point of need, mixing knowledge management and learning in a true real-time application.
All of the examples we've discussed here just scratch the surface of possible implementations of these exciting new technologies we now have at our disposal. Those that see the possibilities here and able to leverage these new resources appropriately and creatively to train their lawyers will come out on top.
These are exciting times – and the possibilities are endless.
About the Author
Steve Gluckman is the founder of LawFirmElearning, the leading developer of custom on-demand learning for the global legal industry. He served as Senior Director with a large national U.S. law firm and has supported scores of firms across the globe with a variety of award-winning online learning initiatives.
In 2011, Steve was appointed by Harvard University to serve as a Senior Fellow at Harvard's Center for Business and Government where he focused on Knowledge Sharing and Social Learning practices and developments.
Steve holds a Masters Degree from Harvard University and a B.S. in Computer Science from the Watson School of Engineering in New York.
Email: Steve@LawFirmElearning.com
LinkedIn Profile: https://www.linkedin.com/in/stevegluckman/
Company Website: http://LawFirmElearning.com