Distinguished Fellows
Appointment as a Centre for Legal Innovation (CLI) Distinguished Fellow is open to anyone who has a proven practice-based specialism/expertise that intersects law and innovation (for example, College of Law staff, lawyers, other professionals and consultants).
All Distinguished Fellows are expected to lead, develop or take on aspects of the Centre's events, workshops and/or course development. Distinguished Fellows are remunerated for their work. They are appointed for one year or for the length of the development and roll out of the Centre's event, workshop or course they have been working on.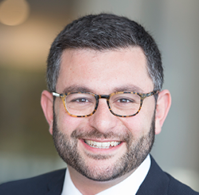 Special Counsel, Clayton Utz (Sydney)
CLI appointed its first Distinguished Fellow in January 2018: Samy Mansour, Special Counsel, Clayton Utz (Sydney). Samy's work will focus on developing and delivering seminars, courses and workshops on how to innovate, develop an innovative mindset, and become a legalpreneur. As an experienced lawyer with formal training in the world of innovation, and particularly drawing on his role as an Innovation Champion at Clayton Utz, we are sure Samy will make a significant contribution to the work of the Centre. 
For more information about the Distinguished Fellowship Program or to register an Expression of Interest, please contact the Centre's Director, Terri Mottershead